February 28, 1964 - April 8, 2021
---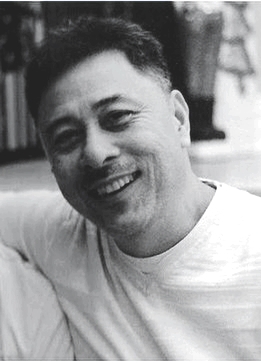 Richard U. Eserjose was a loving husband, father, brother, son, uncle, and friend.
He was known as a charismatic, adventurous man that could liven up any room he walked into. Richard had a great sense of humor and infectious smile; his siblings consider him to be the life of any party. He was a man of many nicknames, Ricky to his family, Rich or Chard to his friends and Tisoy to those back home.
Richard was diagnosed with a pineal neuroepithelial tumor in early 2015. After fighting tirelessly for six long years, he passed away peacefully at home on April 8th, 2021 at the young age of 57.
Born February 28th, 1964 in Manila, Philippines, Ricky was one of eight children of Alexander Eserjose and Ramona Uhler. He and his wife, Chloe, had three children of their own, raising them in New Jersey and was a Senior Electrical Engineer for the Port Authority of New York & New Jersey.
Ricky was a fun-loving prankster but also a kind and caring individual.
He grew up in Manila, Philippines where he and his eight siblings grew up in a small two-bedroom apartment. He later moved to New York City in 1988 where he shared an apartment with his brother Bill and sister Laura in Elmhurst, Queens and would spend the next few years venturing throughout the city.
Through a mutual friend, Ricky was given Chloe's phone number and when he finally called, they hit it off instantly. After months of talking on the phone, he insisted they meet. They first met each other in front of the Queens Mall during the holidays and every weekend following that she had off from work, he would take her to the Philippine Village where they would spend the whole night dancing. On May 31st, 1994 they got married
Not many people know this, but due to the advancement of his cancer he was given a 10-15% survival rate of making it past the first two years. He persevered for six, withstanding relentless rounds of treatment and was even lucky enough to enter remission for a short period of time. Just like he dealt with all of life's experiences, Ricky managed his illness with strength and grace, getting to spend as much time with his loved ones as possible.
Richard is survived by his wife Chloe, children, Albert, Monica, and Eric. He was predeceased by his father Alexander B. Eserjose Sr.
He is survived by his mother Ramona C. Uhler and siblings: Teresa (Laura) and Jeffrey Reyes of Monmouth Junction, NJ; Elizabeth U. Eserjose and John A. Valenti 3rd of Elmhurst, NY; Claire and Jun Solidum of Marlboro Township, NJ; Rosemarie (Janet) Cuasay of Sayreville NJ and John Shedlock of Edison, NJ; Edwin Eserjose of New London, CT; Alexander Jr. and Harme Eserjose of Elmont, NY; William (Bill) and Ruth Eserjose of Sugar Land, TX.
A public viewing will be held on April 12th, 2021 from 8:30am - 9:30am at MJ Murphy Funeral Home in Monmouth Junction, NJ, with a subsequent Funeral Mass to be held from 10:00am - 11:00am at St. Cecilia's Catholic Church in Monmouth Junction, NJ.
His ashes will be brought home to the Philippines with his wife, Chloe.