June 1, 1929 – August 1, 2022
---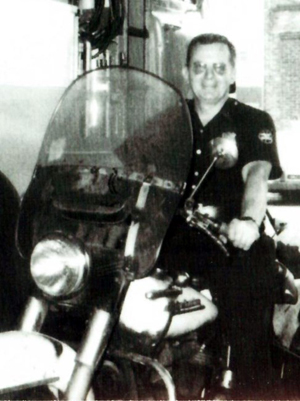 On Monday Aug.1, 2022 Robert Berckes began a new journey to join his wife Adelia and our Father in heaven. Bob was born in Jersey City, NJ on June 1, 1929 to Robert and Marie Berckes. He was the first son of their four children. He graduated Dickinson High school and after working for a couple years joined the US Army in 1951.
After completing his military service, he was accepted and joined the Port Authority as a police officer. He would hold several different positions with the PA throughout his career. He was also a member and served on the Police Benevolent Association Board. He was the last remaining member of their motorcycle unit and he was most proud of his $25.00 award he received for suggesting putting down a second stripe inside the Lincoln and Holland Tunnels to create more safety space between lanes. He retired from the job in 1974.
On August 15, 1954, he met Adelia Sturnick and after proposing on their 2nd date, they married May 28, 1955. Moving to Secaucus, NJ, they created a home for their family, built many friendships, and became active in the local community.
Not one to sit back and relax, Bob's retirement years brought him more adventures. He realized his boyhood dreams by becoming a part of his two sports loves, Notre Dame and the NY Yankees. While working at the Sheraton Inn during the late 70s' and early 80s', he became very friendly with many of the NY Yankees who stayed there during the season. He was such a part of that group, that he was invited and joined the celebration party after the Chambliss' HR for the '76 American League title. He also managed to chauffeur George Steinbrenner a few times while he lived in Florida. George remembered and teased him for getting his players drunk when he worked the Sheraton.
Traveling the country, he and his wife Adelia met Fr. Pat Neary after mass while visiting the University of Notre Dame. This would lead to the Berckes/Neary families forging a lasting relationship through the years often visiting each other in Jersey or Indiana. Bob and Adelia celebrated their 50th wedding anniversary and renewed their vows at the Log Chapel on the Notre Dame Campus. Bob, family and friends would make pilgrimages back to Notre Dame attending football games and celebrations.
He met Fr. Hesburgh and Fr. Molloy and well as several football coaches and players. His letters of advice and counsel sent to coaches were answered and they shared their respective thoughts on his input back. Bob actually had the kids on his Secaucus school bus route sing the Notre Dame Fight song and sent the cassette to Coach Holtz.
He also served the Secaucus community as a school bus driver for 17 years. A job he loved a great deal and cared deeply for all the children on his bus. He knew each of their names and would often offer words of wisdom and advice.
Bob was pre-deceased by his wife Adelia, his parents and his oldest sisters Dorothy Lang and Eleanor Walty. His brother Richard survives him. His legacy will carry on through his children: John, his wife Theresa, Patricia Fugnitti, her husband Tom, and Janet Grecco-Vaughan, her husband Brit. He was a loving and very proud grandfather to Meika Franz and husband Warren, Marie Crouch and husband Justin, Michelle Berckes, Morgan Alger and husband Thomas John, Thomas Fugnitti and his wife Alyssa and Allison Fugnitti, Jensen and Keir Vaughan. He was also a loving Great-Pop Pop to Biba Franz and Charlotte, Juliette and Joseph Crouch, Thomas Robert and Bridgette Alger and Nate Gardner.
"Uncle Bob" to the local neighborhood and especially to Carol Mokrzycki, Eleanor Racz, Robert Lang, Kathleen Kilpatrick, Richie and Michael Berckes, Linda Dobson, Jackie Cervalo, their spouses and children. Bob was known for always having a word or smile to offer. Whether they be friends or those who just happen to be sitting in a restaurant or casino, walking along the street, he always had a smile and words of encouragement. He will be remembered for his love of family, friends, Notre Dame, the Yankees, Atlantic City and being breaker of back scratchers. His spirit and passion for life was always driven by one of his favorite sayings, "We're not here for a long time; we are here for a good time." Bob did both.
Visitation will be Sunday, August 7, from 3-7pm at Mack Memorial Home, 1245 Paterson Plank Road, Secaucus, NJ. A Funeral Mass will be held Monday, August 8, at 9:30am at Immaculate Conception Church in Secaucus. Interment to follow at BG William C. Doyle Memorial Cemetery, Wrightstown, NJ.
In lieu of flowers, Bob would want you to celebrate his life with "Raising a glass, yell "Go Irish" and finish off with some Hershey mini-chocolate bars.
"Case Closed"