March 15, 1940 - July 3, 2023
---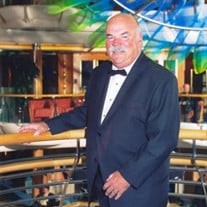 We remember with love and admiration the extraordinary life of James Allen Grismer, known as Jim or "The Griz," whose vibrant spirit took its leave from us unexpectedly on July 3, 2023. He was born to John Harold "Jack" Grismer and Mary Catherine "Mae" Westcott Grismer on March 15, 1940, in Richmond Hill, Queens, N.Y., the youngest of two sons. Jim's journey can be described as an exquisite tapestry, intricately woven with diverse experiences that reflect the depth and richness of his character. He was 83 years old.
Raised in New Hyde Park, N.Y., Jim was a product of Herricks Public Schools and Hempstead High School. His thirst for knowledge took him to SUNY Farmingdale State College, where he earned his associate's degree in agriculture before moving on to the University of Georgia, where he secured his bachelor of science degree in agricultural sciences and left a lasting impact as the president of the Chi Psi Fraternity. He remained a proud Georgia Bulldogs fan for the rest of his days.
He began a remarkable service career with the U.S. Army Infantry in 1963. After an honorable discharge, he worked at the World's Fair in New York City before becoming a management professional for the Port Authority of New York and New Jersey. Jim's leadership was instrumental in the operations of all three of New York's major airports. His role as the General Manager of Operations for New York's World Trade Center genuinely showcased his abilities. He was responsible for the building's electrical, mechanical and structural maintenance, housekeeping, fire safety and security. He retired in 1997 after 33 years. The tragedies of the 1993 truck bombing and 9/11 brought the loss of over 90 co-workers, many of whom worked with him for over 25 years.
He was a volunteer firefighter in Garden City Park, Lynbrook, N.Y., and Savannah, Ga. He served as a Tally-Ho Engine Company No. 3 captain and honorary chief of the Lynbrook Fire Department. In addition to leading the restoration of the company's 1921 Model T Fire Truck, he also acted as "Chairman" and "Master of Ceremonies" for many company dinners and all of their Thanksgiving weekend Christmas parties. Jim was known for his role as Santa Claus as he traveled with his "elves" to members' homes on Christmas Eve. He was also a Chatham/ Southside Fire Department 7th District member from 2003 until his death. He accrued 65 years in the volunteer fire service during his life.
After serving as a platoon sergeant with the 1st Battalion, 69th Regiment, 42nd Infantry Division, Jim spent his life honoring our nation's veterans after being honorably discharged. Jim had a long history with the American Legion in which he was Commander of the Savannah Post 135. He maintained his membership with the Sons of the Legion and The Forty and Eight. He has been involved in other veteran organizations and military societies. He has held leadership positions in various capacities as Commander of the Second Division of the Veterans Reserve and Commander of the Sons of the Union Veterans of the Civil War in New York State. Additionally, he is a member of the Scottish American Military Society Color Guard and the 69th Regiment Veterans Corps. In 2021, he was named Grand Marshal for the Savannah Veterans Day parade.
An Ancient Order of Hibernians member, he was past president of the John P. McGuinness- Richard Fitzsimons Division 14 in New York. He was a current Monsignor Daniel J. Bourke Division 1 member in Savannah. Jim was a dedicated volunteer at the National Museum of the Mighty Eighth Air Force and was vital in restoring their legendary B-17, "City of Savannah." He was incredibly proud to be part of the leadership team throughout this lengthy project at the museum. He is also credited with restoring a 1941 Army Corps crash truck that served at Hunter Army Airfield throughout WWII and is now on display in the Army Museum at Fort Stewart.
Jim is remembered by his beloved wife, Anne Markley Camperlango Grismer; his children Alison E. Norton (Ryan Nelson), James R. Grismer (Jennifer Jackson Grismer), Jane Grismer (Nathan Dominitz), and Richard W. Grismer (Margaret Schutta Grismer). He was a loving stepfather to Carolyn Camperlango Shepherd, Christine Camperlango Cagle, and Elizabeth Camperlango O'Neil (Robert). His legacy continues through his eight grandchildren.
Preceded in death by his parents Mae and Jack, his brother John "Jack" Grismer, and his first wife, Mary Jane McGrath Grismer, Jim's legacy will be marked by relentless service, unwavering dedication and an infectious zest for life. His many stories will continue to bring joy and laughter to those who knew him, reminding us of the profound impact one person can have on the world.
A visitation will be held at Baker McCullough (www.bakermccullough.com) in the Hubert C. Baker Chapel at 7415 Hodgson Memorial Drive, Savannah, Ga 31406, on Monday, July 10, 2023, from 12 noon until 2 pm with a memorial service immediately following.
In lieu of flowers, donations in Jim's name can be made to either the Stephen Siller Tunnel to Towers Foundation, 2361 Hylan Blvd., Staten Island, NY 10306, (t2t.org/donate) or the National Museum of the Mighty Eighth Air Force at PO Box 1992, Savannah, GA 31402 (www.mightyeighth.org/support).