December 16, 1939 – August 2, 2021
---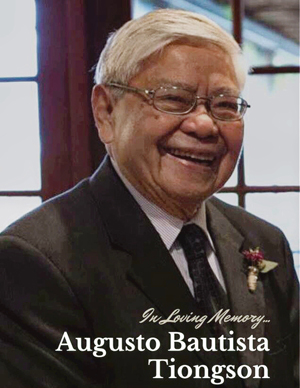 Augusto Bautista Tiongson, known as "Don" or "Kutz" to family and friends and "De" to his two daughters, was born in San Fernando, Pampanga, Philippines, in 1939. He was one of six children (3 boys and 3 girls), the second child and first born son of Adriano and Angela.
Augusto had a passion for art and design, studying architecture at the Mapua Institute of Technology. After receiving his bachelor's degree, he worked at Clark U.S. Air Base in Angeles City as the youngest architect in his group.
An avid fan of Western films and the Superman movies, Augusto had dreams of moving to the U.S. He first made his way to Canada, then San Francisco and settled down in New York City in 1970. It was here that he sharpened his architecture skills and trained under famed architect/Frank Lloyd Wright protégé, Edgar Tafel. Augusto went on to have a successful career designing large buildings and developments across the city. His notable accomplishments included JetBlue's Terminal 5 and the AirTrain at JFK Airport while working at the Port Authority of New York & New Jersey (PANYNJ), where he retired in 2007.
Augusto's entire life was surrounded by women, being especially close to his mother and three sisters. Thus, he particularly fancied smart, strong-willed, independent women, leading him to meet his beloved wife, Lucita, while opening a savings account at a Citibank in Chelsea where she was working as a teller. Lucita ("Lutz") also immigrated to New York from the Philippines and two years later, they married on Augusto's 33rd birthday on December 16, 1972. The newlyweds spent most of their time on the Upper West Side in their one-bedroom apartment at Ruxton Towers on West 72nd street, just a few doors down from The Dakota. Soon after, they welcomed two daughters, Twyla and Vanessa, and the family moved to Jackson Heights, Queens.
A staunch Democrat, he cared deeply about social justice and civic issues. He served on Queens Community Board 3 as chair of the Land Use Committee in Jackson Heights where he and his family lived for over 35 years. Empty nesters, Augusto and Lucita sold their Jackson Heights home in 2016 and moved back to their old stomping grounds on the Upper West Side of Manhattan.
Augusto possessed a welcoming and warm spirit, and had a sweet soul. He loved social gatherings and had a genuine zest for life. He was a talented artist/watercolorist and exhibited his paintings at private venues around the city and gifted his artwork to family and friends around the world. Augusto had an insatiable appetite for art and books – often frequenting NYC's museums and shopping at Strand Book Store in the East Village. He loved music too, especially jazz, and was fond of listening to (and impersonating) one of his jazz heroes, Louis "Satchmo" Armstrong. He loved food, wine, bourbon and Cuban cigars and methodically clipped recipes from the New York Times' Cooking section each week which he often called upon to prepare Sunday brunches and dinners for his family.
Augusto was diagnosed with Lewy Body Dementia in 2015 and succumbed to complications from his illness on August 2, 2021. Augusto is survived by his wife, Lucita; daughter Twyla (Chad Neal) and their daughter, Adrielle; and daughter Vanessa (James Schoenfeld).
A funeral mass will take place at 10:00 AM EST on Friday, August 13, 2021 at Holy Trinity Roman Catholic Church, 213 West 82nd St, New York, NY. The service will also be live streamed on Holy Trinity's homepage which can be found at www.htcny.org
You can share memories, stories, photos and/or videos on the Tiongsons' online guestbook: https://bit.ly/abtiongson
Donations can be made in Augusto's memory to the Lewy Body Dementia Resource Center of New York who've provided invaluable care and support to our family these last few years. Visit www.lewybodyresourcecenter.org for more info.