November 21, 1927 - May 8, 2021
---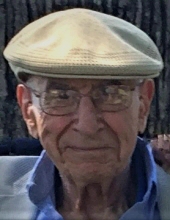 Retired from Port Authority, avid reader; 93
George Azrak Sr., 93, of Little Falls, New Jersey, passed away peacefully on the morning of May 8th, 2021. Born in Paterson in 1927, George was a devoted husband, father, grandfather, and friend. He was a veteran of World War II and the Korean War.
The son of immigrants, he was the first in his family to attend college, matriculating at Clarkson College in Ithaca, New York, by way of the GI Bill. He graduated with a degree in Civil Engineering and maintained his PE license well into his 80's. George met his wife Irene in 1955 at a dance and they married less than a year later. George and Irene settled in Little Falls where they raised their family and were residents for over fifty years. He was a scout leader for Little Falls Troop #14 from 1966-1974 and was an active member of the American Legion Post 238 of West Paterson.
He worked for the Port Authority of New York and New Jersey for over twenty five years in New York City and at Newark International Airport and received the Distinguished Service Medal in 1986. After retiring, George and Irene wintered in Florida for several years. He spent much of his time helping his community. An inveterate problem solver and fixer-upper, he enjoyed organizing and working a plan through to completion. Always looking to utilize his civil engineering and handyman skills, he worked with Habitat for Humanity and would help others by serving as an expert engineer in civil litigation. George was also an active member of St. George's Church in Little Falls for many years.
An avid reader of all types of books, George was particularly fond of history and historical fiction and was always happy to discuss key episodes in history. He loved Poker and hosted weekly games in which he often ended up a few dollars poorer owing to his brother Louie's unbelievable luck. He enjoyed the ocean and took his wife and young children to extended family gatherings at the Jersey shore every year. Though his health started to deteriorate in the latter years of his life, George felt fortunate to be able to continue to create lasting memories vacationing at the shore with his family and grandchildren.
George was predeceased by his wife Irene Azrak (Saczawa), parents Abdo and Wadia Azrak, brothers Harry (Elizabeth), Louis (Kathleen), and Charles (Josephine) and sister Elizabeth Norman (Glenden). He is survived by his son George Azrak Jr. (Mary Kay Murphy), and daughters Donna Flint (Perry) and Marijean Azrak (Fred Huang). He has five loving grandchildren, Rose Azrak (Jacob Catt), Joshua Flint (Danai Makawa), George Alexander Azrak, Laura Flint (Timothy Peterson), and Katherine Azrak as well as many nieces, nephews, grand nieces, grand nephews, relatives and friends. He will always have a dear place in the hearts of those who knew and loved him.
Visitation will be held at 4:00pm - 7:00pm on Tuesday, May 11th, 2021 and a service is scheduled at 11:00AM on Wednesday, May 12th, 2021 at O'Boyle Funeral Home, 309 Broad Street in Bloomfield, NJ.
To Plant Memorial Trees in memory, please visit our Sympathy Store.
Published in The Star-Ledger on May 10, 2021