October 15, 1931 ~ July 10, 2021
---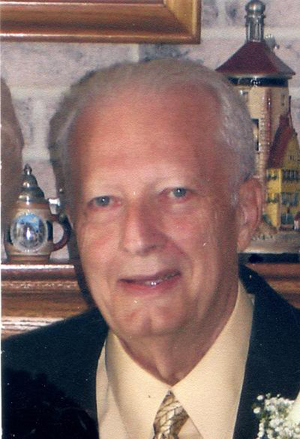 Henry A. Hirschel, age 89, residing in Toms River, NJ, and formerly of North Bergen, NJ.
Passed away peacefully from this life on Saturday, July 10, 2021 with his wife, Margaret, at his side. Henry fought hard against his ongoing health concerns with the same dignity and rectitude with which he had always carried himself.
Henry was born to the late Eva Hoell Hirschel and William Hirschel on October 15, 1931 in Jersey City, NJ. A loyal and dedicated family man, Henry was a loving husband, devoted father and beloved grandfather.
Henry proudly served in the United States Army during the Korean War. He worked for the New York Port Authority and was a model maker for many exciting projects in the city's growing landscape of the 1960's and '70's, including constructing scale models of LaGuardia Airport and The World Trade Center, to name a few. He retired from the Port Authority of NY&NJ in 1994. His hobbies and talents included exquisite carpentry and woodworking, photography and researching family genealogy. Henry was a quiet and reserved man who left a lasting impression of his humble and kind nature on his family and his many friends and coworkers. He will be greatly and forever missed by so many who loved him and whose lives he touched.
Henry is predeceased by his parents, William Hirschel, and Eva Hoell Hirschel and his sisters, Henrietta Hirschel and Elizabeth Murphy.
Henry is survived by the love of his life Margaret C. Santoro Hirschel to whom he was married for 64 years; his son, Gene Hirschel; his daughter, Catherine Daron and her husband Ramin; and his grandchildren, Ciana and Remington Daron, and Cal Hirschel.
The family will receive friends and relatives on Friday, July 16, 2021 from 5pm to 9pm at Timothy E. Ryan Home for Funerals, 995 Fischer Blvd., Toms River, NJ. A Mass of Christian Burial will be held at 10am, Saturday, July 17, 2021 at St. Justin the Martyr RC Church, 975 Fischer Blvd, Toms River, NJ, with a private entombment to follow at Ocean County Memorial Park, Toms River, NJ.
Condolence may be expressed to the family by visiting www.hirschelfamily.com
To send flowers to the family or plant a tree in memory of Henry A. Hirschel, please visit our floral store.
Timothy E Ryan Home For Funerals
145 St Catherine Blvd.
Toms River, NJ 08755
(732) 505-1900