Wednesday, May 9, 1945 - Monday, June 28, 2021
---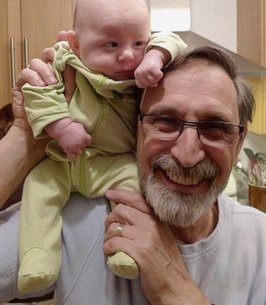 Kenneth Strier passed away on June 28th, 2021, surrounded by family at his home in Sun City West Arizona. He was 76. Taken from us far too soon by idiopathic pulmonary fibrosis, Ken was himself to the end— equal parts stubborn and creative, serious and funny, fierce in his independence, love, anger, loyalty and commitment to dessert. And to the end, likely underestimated how many people loved him and how much.
Born in Staten Island, NY to Martin and Dorothy Strier, Ken early on began building relationships that would last him a lifetime. His friends from elementary school and junior high school in New Hyde Park, Queens were with him throughout every stage of his life, including his dear friend Allen Hittelman, who introduced him – at the ripe old age of 13 – to the girl who would become his partner and the love of his life, Ellen Weber Strier. He and Allen practiced learning to dance on her and after a bumpy start (he thought she was cute and was going to ask her out but their mutual friend, Don, beat him to it) they began dating in 1964, were married in 1969, and welcomed daughters Shari and Michelle in 1970 and 1973. Dancing with Ellen throughout the years was one of the great joys of his life.
Ken was a "lifer" at the Port Authority of New York and New Jersey, beginning his career there in 1968 as a systems programmer, quickly moving up the ranks to management in information systems and finally settling in information security until his retirement in 2001. Throughout his adult life, though, his family was the center of his world. To afford a house where the kids could run around, the family moved to Commack, NY, despite the two hour commute each way it meant for Ken. He made it home every night by 7:15 for dinner, where his girls waited, jumping into his arms when he arrived. He often noted that, while long, the commute was what enabled him time to decompress and be present with them all when he got home. And present he was. Gently cleaning and tending wounds, wrestling on the living room floor, working on science projects, creating Halloween tiaras out of his favorite medium wire hangers, weaving tales to chase away bad dreams at night and inspiring endless laughter in his daughters. He continued to devote himself to his family as loving Zayda to his four grandchildren, Alison, Zachary, Kase and Ramona.
Throughout his 20-year retirement, Ken explored his artistic side. He was an award-winning sculptor (working in clay, stone and metal), a jewelry maker and set designer, deeply involved in the art communities both in Long Island and Arizona. He was a member of TriCounty Artists of Long Island, LIPSS (Long Island Professional Sculptors and Supporters), the Huntington Arts Council, and Suburban Art League and the Seven & Seven group.
Ken will be deeply missed by all who knew him, but especially by the loving family he leaves unsure of how to navigate a world without him: his wife, daughters, grandchildren, sister Linda, brother-in-law and sister-in-law, Paul and Diane, and sons-in-law Don and Larry. To honor his memory and to advance a cure for the cruel disease that took him, the family asks that donations be made in his name to the Pulmonary Fibrosis Foundation:
https://app.mobilecause.com/vf/PFFTribute/KennethStrier
Sinai Mortuary
4538 North 16th St.
PHOENIX, AZ 85016
(602) 248-0030