January 19, 1926 - August 11, 2021
---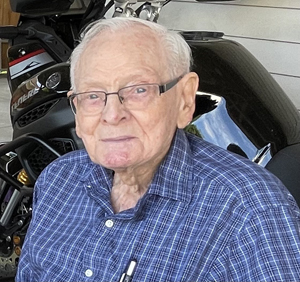 On Wednesday August 11, 2021 Lorne Alvin Ingram, age 95, was called Home to be with his beloved wife Mary.
Lorne was born in the family farmhouse in Mitchell, Ontario, the 5th of 6 siblings, to James Ingram and Ellen Batchelor Ingram. Lorne assisted his father on the farm until age 20 when he left for "the big city" of Brantford, Ontario. He took a job working for the Cockshutt Implement Co. where he met his future bride, Mary. Lorne and Mary were married on May 21, 1949 in New York City where Lorne worked for the White Rock Bottling Co. In 1951, he was selected for the Army and was soon on his way to La Rochelle, France with the 81st Engineer Boat Co.
Once back home, Lorne took a job with the Greyhound Bus Co., repairing bus engines and soon moved to Kennedy Airport to finish his career with the Port Authority. He was a highly skilled mechanic and served as an instructor in the training program. Lorne and Mary raised 2 daughters who love him almost as much as he loved them. Lorne loved his family fiercely and wrote many letters and made countless phone calls to keep in touch with everyone
Lorne is preceded in death by his beloved wife Mary (2007) and brothers, Arthur and William, and sisters Evelyn, Dorothy, and Audrey. He is survived by his daughters Nancy Adare Babkirk (Dane) and Mary Rogala. He is also survived by all the grandchildren that called him "Poppi": Scott, Christopher (Benah), Justin (Kelsey), Nicole (John), Jessica (Rory) and Robert (Daniela). Lorne is also survived by 8, almost 9 great grandchildren: Candice, Aiden, Cora, Timothy, Eliana, Mila, Brielle, and Isabella. Lorne leaves many friends and family across the country and Canada.
Memorial contributions may be made to Hospice of Spokane, 121 S Arthur, Spokane, WA 99202, www.hospiceofspokane.org or Ronald McDonald House Charities Inc., 26345 Network Place, Chicago, IL 60673-1263, www.rmhc.org.
There will be a visitation from 10 am to 1pm on Monday, August 23, 2021 at Ball & Dodd Funeral Home.
A funeral service will be held at 1pm on Monday, August 23, 2021 at Ball & Dodd Funeral home 5100 W Wellesley Ave, Spokane, WA 99205
Fond memories and expressions of sympathy may be shared at www.BallandDodd.com for the Ingram family.