July 14, 2021
---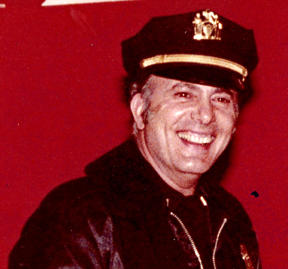 Louis L. Araneo of Middle Island, age 90.
Beloved husband to the Late Laura R. Araneo. Cherished father to Roseann Maltz, Janet Maffucci, Joseph Araneo, and Robert Araneo. Grandfather to 13 and Great Grandfather to 7.
Lou was a Port Authority Police Officer for 25 years, retiring in 1980 as a Sergeant at Kennedy Airport. He spent his early years working in the tunnels, then La Guardia Airport and finally after he made Sergeant, he was assigned to Kennedy Airport.
His first day at Kennedy Airport, there was a hijacking, and he was told to take food out to the police officers onsite. He had a map, but saw a more direct route and decided to drive through a building even though there was a man waving him off. Turns out the other side of the building was a loading dock and he landed the police cruiser on an incline off the dock. Nonplussed, he asked a guy with a forklift to right the police car and off he went!
The highlight of his career was when his idol, Frank Sinatra, came to the airport. Again, nonplussed, he asked Frank if he would pose for a picture with him and his crew. Frank obliged.
Lou made every family member feel that they were the most special person in his life. He will be sorely missed.
Love you Dad.