September 7, 1931 - February 25, 2021
---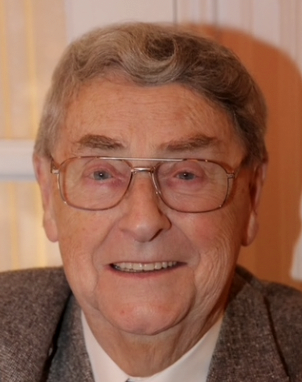 Michael X. Harrington, 89, passed away on February 25, 2021 in Westfield.
Born in Jersey City, he grew up in Bayonne and moved to Cranford in 1972. A mass of Christian burial will be held at St. Michael's Church in Cranford on Tuesday, March 2 at 10:00 a.m., and following the service, he will be interred in Holy Cross Cemetery in North Arlington.
"Mike," as he was known to his friends, had a long and distinguished career protecting and serving the public. He enlisted in the U.S. Air Force in 1950, eventually attaining the rank of sergeant. After his military service, he joined the Port Authority of New York and New Jersey Police Department and rose to the rank of captain. At one time, he was commanding officer for both the Holland and Lincoln Tunnels, as well as the George Washington Bridge. Retiring in 1998, he served for 43 years and never missed a day of work. He was popular with the police officers under his command, and was known as a "cop's cop".
Mike was dedicated to his faith, family and community. He was a parishioner of St. Michael's Roman Catholic Church for over 48 years. He and his beloved wife, Eileen, were fixtures at the Sunday 9:00 a.m. mass. Anyone who attended that mass knew "their pew" and would stop to say hello. Mike was also a member of the Knights of Columbus and served on many township committees and worked with local organizations over the years. Most notably, he was president of the Cranford Baseball League. During his retirement, Mike resumed painting and became an accomplished watercolorist. When he wasn't painting, Mike loved spending time with his family, especially his grandchildren, John, Grace, Emily, Luke, and James. Capt. Harrington is also a graduate of Adelphi University and received a master's degree from Northwestern University.
He is predeceased by Eileen D. Harrington, née Hilla, whom he married in 1958. He is survived by his three beloved children, Michael Harrington of Bethesda, Maryland, Timothy J. Harrington of Roselle, Mary Kate Santulli of Cranford, and his son-in-law Keith Santulli and daughter-in-law Alexandra Harrington.
The viewing will be private. A celebration of Mike's life is planned for later this year.
To send flowers to the family or plant a tree in memory of Michael X Harrington please visit our Tribute Store.
Dooley Funeral Home
218 N. Ave. W.
Cranford, NJ 07016
(908) 276-0255