March 11, 1932 – November 20, 2021
---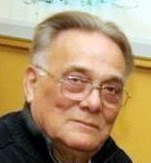 Philip Tralongo, 89, passed away peacefully, at home, on November, 20, 2021.
Philip was born in Manhattan on March 11, 1932 to Rosaria and Antonio Tralongo. Philip worked as a police officer for the Port Authority of New York and New Jersey, and received many commendations for heroism during his career, He retired in 1991 and enjoyed spending time with his family at their vacation home in the Pocono's. Philip was also a patriot and proud member of the New York Army National Guard, serving as Staff Sergeant for more than 30 years. A loving father, Philip is survived by his children, Mary, Jean and Anthony Tralongo.
Philip was a devoted husband to his beloved wife of 50 years, Anne who predeceased him in 2012. He is also survived by his sister, Grace Sansone and 8 nieces and nephews. He was predeceased by his brother, Frank Tralongo and sister, Rose Puccio. Philip was a kind, caring and funny man who never hesitated to help others. He enjoyed spending time with his family. He was our hero, protector and our teacher. We were his world and he was ours. His warm and loving spirit will be dearly missed, said his children. Philip was a highly skilled craftsman, who enjoyed woodworking and metalworking, and could build or fix anything. He was also an avid shooter as well as an amateur gunsmith and collector. He was a great storyteller who often reminisced on his time growing up in New York City and summers spent on Staten Island, which he always referred to as "the country".
In lieu of flowers, contributions in PHILIP's memory may be made to MY PLACE- A MEMORY CENTER, c/o Nancy & Ronald Avis/South Shore JCC , 1297 Arthur Kill Road, Staten Island, New York 10312 US, sijcc.org/memory-loss-programs.html.
Broken Chain We little knew that morning that God was going to call your name. In life we loved you dearly, in death we do the same. It broke our hearts to lose you, you did not go alone; for part of us went with you the day God called you home. You left us peaceful memories, your love is still our guide, and though we cannot see you, you are always by our side. Our family chain is broken and nothing seems the same, but as God calls us one by one, the chain will link again.
Funeral Mass:
10:30 am - 11:15 am
Holy Family Roman Catholic Church
366 Watchogue Rd
Staten Island, NY 10314
Committal Service:
11:45 am - 12:15 pm
St. Peter's Cemetery
52 Tyler Avenue
Staten Island, NY 10310
Casey Funeral home
350 Slosson Ave.
Staten Island, NY 10314
(718) 447-4242