August 11, 1944 - January 3, 2021
---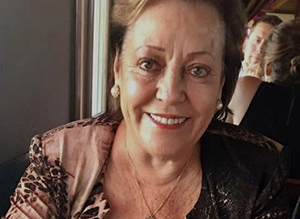 Rosemarie V. Smith-Vincent, 75 of Naples, Florida, passed away on Friday, January 3, 2020 after a brief illness. Rosemarie was a resident of Arden Heights, Staten Island before relocating to Florida this year with her husband Joseph Vincent.
Born Friday, August 11, 1944 in Astoria, New York, she was the daughter of the late Joseph and Rose McGinnis-Smith. She was the wife of Joseph Vincent.
Rosemarie worked for the Port Authority of New York & New Jersey before her retirement. She was a volunteer for several charities over the years, most recently, she was President of the Board of Richmond Senior Services on Staten Island.
She was a loving wife, cherished step- mother, doting aunt, dearest cousin and cherished friend to so many. Her big smile and kind heart will be surely missed by all.
A Mass of Christian Burial will be at 11:00 AM on Friday at St Agnes Catholic Church located at 7775 Vanderbilt Beach Rd Naples, Florida 34120. Interment will be in Palm Royal Cemetery, Naples, FL.
The family will receive friends from 3:00 PM to 5:00 PM on Thursday, January 7, 2021, at Naples Funeral Home, 3107 Davis Blvd, Naples, Florida. Interment will follow at Palm Royale Cemetery also in Naples, Florida.
Online condolences may be made to the family at https://www.scaliahome.com/
To watch a live stream of the Funeral Mass, please go to:
https://vimeo.com/497690402/7e9dfd658b
To send flowers or a memorial gift to the family of Rosemarie V. Smith-Vincent please visit our Sympathy Store.
Celebration of Life
Rosemarie Smith Vincent passed away on January 3, 2021 in Naples, FL. A celebration of her life will take place at a memorial luncheon on Friday, May 14, 2021, at 1:00 p.m., at The Historic Old Bermuda Inn, 301 Veterans Rd. W., Staten Island, NY 10309.
Please RSVP no later than Friday, May 7, by calling the Inn directly at (718) 948-7600. The cost of $25 per person is payable at the time of the luncheon.
Visitation:
JAN 7. 2021 - 3:00 PM - 5:00 PM

Naples Funeral Home
3107 Davis Blvd
Naples, FL 34104
Service:
JAN 8. 2021 - 11:00 AM - 12:00 PM

St Agnes Catholic Church
7775 Vanderbilt Beach Rd
Naples, FL 34120
Cemetery Details:

Palm Royal Cemetery
6780 Vanderbilt Beach Rd
Naples, FL 34119