January 26, 1948 - December 1, 2021
---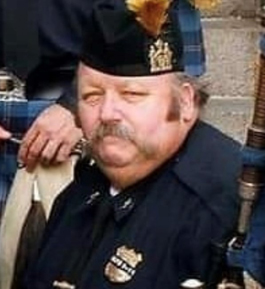 Stephen H. Butterbrodt passed away unexpectedly December 1, 2021.
He was born January 26, 1948 in Jersey City, NJ the son of Henry Butterbrodt and Marion Lynch Collins and stepson of Joe Collins and Mary Butterbrodt. Steve graduated from Middletown North, Class of 1966. Following graduation, he served with the U.S. Airforce until 1972. He married Robin S. Steingraber in 1980 in Highlands, NJ. They have been married for 41 years.
Steve was a Port Authority police officer from 1973 until he retired in 2003. He was a teacher and mentor to many bagpipers throughout the years. He taught bagpipes and helped to start up several different pipe bands. He was also a member of quite a few different bagpipe bands over the years including the Emerald Society pipe band. Steve played Santa for many, many years for his family and at Holiday parties for the Port Authority, and The New School in Holmdel, NJ. Playing Santa was something that Steve loved to do, and he made an amazing Santa. Steve played at many weddings, funerals, promotions, etc. for many of us at the Port Authority.
In addition to his parents, he was predeceased by his brothers Dennis and Thomas Butterbrodt, and his stepdaughter Tammy Hanners. Surviving in addition to his wife Robin S. Butterbrodt (Steingraber) are his daughters Gretchen Butterbrodt of Maine, Colleen (Butterbrodt) Seigler of Matawan, NJ, and Cindy Steingraber of Matawan, NJ, his grandchildren Daniel J. Bennett of Minnesota, Michael & Arya Seigler of Matawan, NJ, bothers Kenneth Butterbrodt of Toms River, NJ, Jerome Butterbrodt of Conesus, NY, John Butterbrodt of New Tazewell, TN and sister Barbara Ann Hohmann of Port Monmouth, NJ. He is also survived by many nephews and nieces.
A very special Thank you to John Ward, Steve's brother from another mother and longtime friend of his and Robins who has really stepped up and helped our family in our time of need.
In lieu of flowers please consider donating in Steve's name to St. Jude's hospital or a Veteran's Association of your choice.
---
papdpipes_drums With great sorrow, the band is pained to announce the passing of charter member and long time Pipe Major,
PO Steve Butterbrodt (Ret.).
Steve was a stalwart in the piping community for many years and instructed many, inspiring pipers and bands throughout the area. He was dedicated to the men and women of the PAPD as a fierce Union Delegate and led the band in honoring those lost after 9/11 at countless funerals then and years later. No details are available at this time. Please keep his family in your thoughts and prayers.
papa911 Always Honored, Never Forgotten.