November 5, 1943 - March 25, 2021
---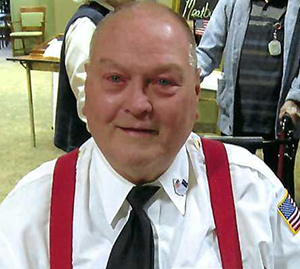 Verl L. Slutz, Age 77, of Canton, passed away Thursday, March 25, 2021. He was born Nov. 5, 1943 in Canton, a son of the late Charles and Catherine (Yant) Slutz, and resided most of his life in the East Sparta/Sandyville area, but New York area over twenty years, St. Louis four years, and Vermont ten years.
Verl was a 1962 graduate of Sandy Valley High School, and spent two years at Forest Park Junior College, and two years at St. Louis University. He retired from the Port Authority of NY-NJ after seventeen years' service, where he was a Police Officer.
Verl was a member of East Sparta Christian Church, Isaac L. Kinney American Legion Post #244 in East Sparta and the VFW and Disabled American Veterans. He had served in the U. S. Navy in 1963-67 during the Vietnam War.
In addition to his parents, he was preceded in death by one sister and six brothers: Dorothy Howdyshell, Bill, Earl, Linford, Ed, Richard and John Slutz. Verl is survived by one daughter, Bridget Hasham; three grandchildren: Zaya, Xanya, and Yavi Hasham. One brother, Victor (Shelby) Slutz, and numerous nieces and nephews.
A Memorial Service with Full Military Honors will be held Sat., April 10, 2021, at 11 a.m. in East Sparta Christian Church with his brother, Victor Slutz, officiating. The family will receive friends in the church Fellowship Hall immediately following the services. The Finefrock-Gordon Funeral Home in Magnolia is in charge of arrangements. Condolences may be sent to:
www.gordonfuneralhomes.com - Gordon (330) 866-9425
To Plant Memorial Trees in memory, please visit our Sympathy Store.
Published in The Times Reporter on Apr. 7, 2021