September 11, 2022
---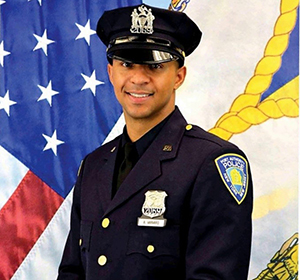 His friends and colleagues at the Port Authority were saddened to learn of the passing of Port Authority Police Officer Anthony Varvaro.
Officer Varvaro, 37, was killed yesterday morning in a motor vehicle accident on the New Jersey Turnpike while on his way to the World Trade Center to support public safety activities during the 9/11 commemoration events.
To lose a member of our family on any day is deeply tragic. But we cannot understate the intense pain of losing a colleague who in the early morning of September 11 donned his PAPD uniform and gear, said goodbye to his family, and headed downtown to fulfill his duty to the people he swore to protect.
Officer Varvaro had a career in professional baseball before joining the PAPD. As many likely have seen in local and national news, Varvaro was a star athlete. A Staten Island native, he played college baseball at St. John's University and went on to pitch in the majors – playing for the Atlanta Braves, the Seattle Mariners, and the Boston Red Sox.
In 2016, he retired from baseball to play for another legendary team – being selected for the 114th Police Academy Class and graduating December 9, 2016. He was assigned to patrol for about five years, including at the WTC, his dream post, and most recently served as an instructor in the PAPD Academy, preparing the next generation of officers.
Officer Varvaro exemplified what makes a hero. It was his passion to serve the public by putting on his PAPD badge every day and dedicating his life to serving others.
The Port Authority family stands with all our colleagues, especially those in the PAPD who mourn the loss of one of their own. We also stand with Officer Varvaro's family who needs us now – his wife Kerry; three young sons Anthony Jr., Jonathan, and Christian; and his young daughter, Savannah.
Currently, information on memorial arrangements is not available. A subsequent broadcast will be issued with more details. For now, we ask the entire agency to keep Officer Varvaro, his family, friends, and colleagues in your hearts and thoughts.
Rick Cotton
Executive Director
---
Visitation:
Tuesday, September 13, 2022
4:00 pm - 7:00 pm
Wednesday, September 14, 2022
2:00 pm - 5:00 pm - 7:00 pm - 9:00 pm<
Matthew Funeral Home And Cremation Services, Inc.
2508 Victory Blvd.
Staten Island, New York, 10314
Mass:
Thursday, September 15, 2022
10:30 am
Our Lady Of Good Counsel Church
10 Austin Place
Staten Island, New York, 10301
Final Resting Place:
Thursday, September 15, 2022
12:15 pm
St. Peter's Cemetery
52 Tyler Avenue
Staten Island, New York, 10310
---
All members of the Force:
It is with great regret and sadness that I must inform you of the passing of police officer Anthony Varvaro. Officer Vavaro passed away earlier today in a motor vehicle accident while in route to serve at the world trade center command in - commemoration of September 11th 2001.
Officer Varvaro was a graduate of the 114th Police academy class. During his 6-year career officer Varvaro served with exceptional pride service and distinction in all his assignments. Most recently officer Varvaro was assigned to the Port Authority Police academy.
Funeral arrangements are pending, and grief counseling will be made available to all members of the force at the two listed locations to be announced shortly.
Four world trade center - 16th floor
Port Authority technical center - second floor
Edward t. Cetnar
Superintendent of Police/Director, Public Safety Department