August 19, 1931 - September 26, 2022
---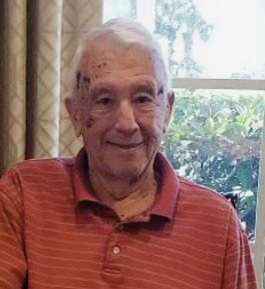 Carl Blair Smith was born on August 19, 1931, in Scranton, Pennsylvania and entered the Gates of Heaven on September 26, 2022.
Carl passed peacefully in the arms of his beloved wife of 67 years, Marjorie, and his three daughters at his home in Port Saint Lucie, Florida. After graduating from Central High School in Scranton, Carl volunteered to serve his country in the U.S. Army, proudly serving for three years in Germany as a Staff Sargent during the Korean War. Upon leaving active service, Carl attended Scranton University and achieved an Associate Degree in Engineering. During this time, Carl met and married the Love of his Life – Marjorie Kathryn Conway. They raised four beautiful children in Middlesex, New Jersey, where they lived for 45 years.
After college, Carl accepted a job with the Port Authority of New York and New Jersey, where he worked for 38 years as Senior Construction Engineer. His many projects there included the construction of the lower level of the George Washington Bridge and the third tube of the Lincoln Tunnel. In 1979, Carl was awarded the Distinguished Service Medal, which is given to employees whose exceptional courage, devotion to duty, and contributive ingenuity merit the highest honors the Port Authority can bestow.
After his retirement from the Port Authority in 1992, he consulted for the PA on the construction of the AirTrain to Newark Liberty International Airport. During his years at the PA, Carl participated in both the PA softball league and the PA bowling league. Carl and Marjorie made many, many lifelong friendships at the Port Authority. Carl coached CYO basketball for 25 years in Middlesex, NJ. During this time, he became the Athletic Director. Afterwards, Carl refereed CYO and public grammar and high school basketball games for 20 years. He served on the Zoning Board of Adjustment for five 5-year terms. Carl loved all sports but none more than his beloved New York Yankees and New York Giants. He greatly enjoyed playing cards with his buddies and going out to dinner with his friends in Port Saint Lucie.
He and Marge loved to travel the world. Together they visited Ireland, Hawaii, Alaska, many European countries, and the South Pacific Islands. Cruises with friends and family were especially enjoyed. Carl was a man of great faith, was a member of the Knights of Columbus, and served as Lector at Our Lady of Mount Virgin Church in Middlesex. After moving to Port Saint Lucie in 2006, Carl attended St. Bernadette Parish. It must be said that Carl lived his faith – his generosity of spirit was extraordinary. His generosity knew no bounds – he gave of his time and talents, not only to his extended family, but to everyone he came into contact with in life!
Carl is survived by his beloved wife, Marjorie, and three daughters – Kathleen of Port St. Lucie, Florida, Lynne of Middletown, New Jersey, Susan of Port St. Lucie, and his sister Suzanne of Scranton, Pennsylvania, and many loving nieces and nephews. Carl is predeceased by his beloved son, Thomas Blair, his parents Carl Senior and Helen, and his sister Joy.
Visitation will be on Friday, October 7, 2022, from 2 to 4 pm and 7 to 9 pm at the Middlesex Funeral Home, 528 Bound Brook Road, Middlesex, New Jersey. A mass of Christian burial will be held on Saturday, October 8, at 11 am at Our Lady of Mount Virgin Church, 600 Harris Avenue, Middlesex, New Jersey. Burial to follow at Resurrection Cemetery in Piscataway, New Jersey. In addition, a mass and celebration of Carl's life will take place in Port St. Lucie at a later date.
Middlesex Funeral Home
528 Bound Brook Road
Middlesex, New Jersey