September 2, 1936 - March 4, 2022
---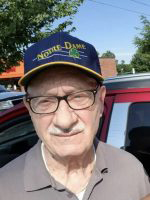 Clement "Clem" Merola, 85, of Hendersonville passed away on Friday, March 4, 2022 at Mission Hospital following a period of declining health. He grew up in Staten Island, NY, where he attended high school and college. In 1955, he joined the United States Air Force and was stationed at Griffiss AFB, which is in Rome, NY. This is where he fell in love at first sight with Betty at the NCO Club Dance, and she became his wife on June 29, 1957.
The newlyweds moved to his hometown in Staten Island, NY shortly after being honorably discharged from the Air Force. In 1961, he became a police officer with the Port Authority of NY and NJ until his retirement as a detective in 1983. He loved his job and was able to work with his best friend from middle school, John Collins. There are many stories from his days with the Port Authority, including when he had to secure building plans for the Twin Towers. His nickname was Rosemary Baby, due to his high arrest records and being a stickler for following the rules.
While in Staten Island, Clem and Betty had 4 beautiful children. In 1983, following his retirement, he and Betty moved to Florida where he lived for 32 years prior to moving to the Dana Hill Community in Hendersonville for the past 5 years.
Clem loved sports, and played baseball throughout high school, college, time in the Air Force and while working for the Port Authority. He was able to try out for 2 Major League teams, and during those try outs, he hit 2 home runs at the Cooperstown, NY field. After his playing days, he coached little league teams for his sons. He also loved to bowl, and was on many bowling leagues in Staten Island. Following his move to Florida, he joined the Father and Son League and also learned to play golf. He became hooked and planned many golf tournaments for the local Elks club. Clem loved camping with his family and set up a seasonal campsite at Rosemount in PA. The family went to this campsite every weekend and summer from April to October. There were many good memories around the camp fires and summer dances with the bands. Clem and Betty went on many cruises together and found great joy in doing so.
Clem joined the Brooksville Elks Lodge #2582 several years after moving to Florida. He made many good friends there and was a 2 time Exalted Ruler. He loved helping children and veterans through the Elks. He was also highly involved in many fundraising events that helped children with college scholarships, sports teams, camps, etc. The cause closest to his heart was helping sick children and their families with medical conditions or special needs. This was so dear to him that he made St. Jude his go-to for donating.
Following his move to Hendersonville, he started going to the local Elks Lodge #1616, where he began making new friends. He was also in the stages of joining Stand Tall Organization. Clem was involved with Police Retirement Club Signal 82 in Florida, serving as president and assistant for many years managing their yearly reunions. In addition to the Elks, he was a member of the Lions Club, Moose Lodge and the American Legion in Florida.
Clem's favorite meal was breakfast, and he could often be found at his local stomping grounds, Dennys and Joeys. It is here that he once again built relationships and friendships with not only the staff, but also other patrons. He loved each and every one of his children, grandchildren and great-grandchildren dearly and could be found telling a story about them or bragging on their many accomplishments.
Clem was known for saying 2 quotes: "Treat people the way you want to be treated" and "Just get it done."
He is survived by his 4 children, Ann Marie Rivera, Richard Merola, Terrie Sheffield, Tom Merola and their spouses, along with 11 grandchildren and 8 great-grandchildren.
He will be dearly missed for his joking ways, caring heart, and his bear (or gruff) attitude.
A funeral will be held at 10am on Friday, March 11, 2022 in the chapel of Shuler Funeral Home. Burial will follow at the Western Carolina State Veterans Cemetery in Black Mountain at Noon with military rites taking place there.
In lieu of flowers, memorial donations may be made to St. Jude's Childrens Hospital in Clem's memory.
Shuler Funeral Home
125 Orr's Camp Road
Hendersonville, NC 28792
828-693-5220