March 5, 1962 - March 7, 2022
---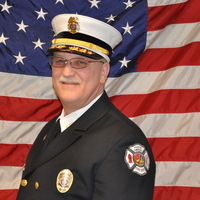 David J. Volk, 60, of Perth Amboy, passed away on March 7, 2022, at JFK Medical Center, Edison.
David was the husband of Susan (Murawski) Volk for 37 years and father to daughters, Brittany (34) and Courtney (30) and son-in-law Bill. He was born in Johnstown, PA to the late Rev. David G. Volk and Carolyn (Baer). David lived in Perth Amboy for 33 years and was devoted to his family, friends, faith and public service.
David was a graduate of Perth Amboy High School, Class of 1980 where he was on the Varsity Football team and member of All-State Chorus. He could always be found working on the stage crew, set and lighting designs for the High School theatrical productions. As a "PK" (pastor's kid) he was involved in the choir, plays and youth group activities at Grace Lutheran Church and was part of a close knit neighborhood of friends on Neville Street. He graduated from St. John's University, NY in 1984 with a bachelor's degree in business administration and communications. David also served as a producer for Cablevision TV3.
From an early age he was fascinated with fire trucks and knew he wanted to be a fireman. In 1980, David joined the Keasbey Fire Department as a volunteer as well as the Perth Amboy Fire Department's Volunteer Division. In 1987, he was hired by the city as a Firefighter. Appointed as the department's initial Training Officer in 1991, David was promoted to Lieutenant (1999), Captain (2003), Battalion Chief (2008) and ultimately rose to become Chief of the Department (2009). David was a charter member for the Perth Amboy Fire Officers Association and served as an Assistant Fire Bureau Chief for the Middlesex County Office of Emergency Management & Fire Marshal's Office. He received many awards and recognitions including the 1997 Valor Award, the 1998 Team Effort award from the St. Barnabas Burn Foundation, and the Valor Award from the Professional Firefighter's Association of NJ. Before and after his retirement in 2013, David was committed to teaching future generations of firefighters serving as an instructor with the Monmouth County Fire Academy. He was extremely proud to serve his community and cherished the lifelong friendships he made throughout his career.
David found a second career at the Port Authority of New York and New Jersey. In 2015, he joined the team as a Safety Programs Coordinator for the Port Authority Trans Hudson Corporation (PATH)In 2017, he became the Principal Safety & Compliance Coordinator and in 2019 was promoted to Manager of System Safety & Environmental Management. David's employees always spoke highly of him and his open door policy. He encouraged communication and cared about more than just the job.
David could always be found with a cup of coffee in his hand and was proud of his ability to be in and out of Wawa in under 60 seconds to get his cup. As a Mets, Jets, and Knicks fan David experienced heartbreak year round but remained faithful until the end. He passed on his love of sports to his girls, enjoying countless baseball games with Brittany, despite the fact that she was a Yankees fan, and was thrilled when Courtney went to Syracuse where he could watch some good college hoops. David was also a proud "dance Dad", never missing a single performance. And, like his organist and choir director mother, David was a huge music fan. Few things were better for Dave than drumming on his steering wheel to some good music.
Above all else, David's biggest love was his family. As a brother, he was always there to chat about sports, give a high five, provide a lending hand, big hug, cherished advice and support to his brother Paul and sisters Krista and Sarah. He was a proud uncle who loved keeping tabs on his nieces' and nephews' sporting events, plays, and concerts. David also had the best little bud in his pup Charlie who he'd provide with endless naps, cuddles, and love.
David was the ultimate girl Dad. Among all the achievements in his life, his proudest was his girls. There was nothing he wouldn't do for them and he never missed an opportunity to make them feel loved. He was also lucky enough to have his best friend and wife, Sue by his side. You can't talk about one without the other. His love for all three of his girls knew no limits. David was known for his big smile, infectious laugh, and heart of gold. His legacy will live on through those he loved.
David is survived by his wife, Susan (Murawski) Volk; his daughters, Brittany Volk and her partner Chris Morse and his children, Brayden, Scarlett and Thea, Courtney (Volk) Skinner and her husband, Bill; his siblings, Krista Volk, Paul Volk and wife Carol (Zeller) and their children, Hayden, Matthew and Jack and Sarah Kozak, her husband Keith and their Children Graham and Kyle; in-laws Sandra, Margaret, James, JoAnn, Robert, Edward, Michele, Deborah and Carl; and nieces and nephews Jamie, Justin, Allison, Jennifer, Craig, Robert, Ariana, Ryan, Tyler, Judith, Katie, Mallorie, Thomas, Resa, and Shannon; predeceased by mother and father-in-law Joseph and Arlene; brother-in-laws Joseph and Thomas.
Visitation will be held on Monday, March 14, 2022, from 4:00-8:00 PM at Flynn & Son Funeral Home in Fords, NJ. Funeral services will be held on Tuesday, March 15, at 10:15 AM at the funeral home, followed by a 11:00 AM service at Grace Lutheran Church in Perth Amboy. Interment will be in St. Gertrude Cemetery in Colonia.
In lieu of flowers, donations may be made in David's memory to Good Shepherd Home where his sister Krista lives. Donations "In memory of David Volk" can be made online at www.goodshepherdrehab.org/donate or by check to Good Shepherd, Development Department, 850 S. 5th Street, Allentown, PA 18103, indicate on check donation is for the "Rev. David & Carolyn Volk Fund"
To plant Memorial Trees in memory of David J. Volk, please click here to visit our Sympathy Store.
---
IN MEMORIAM
His friends at the Port Authority and PATH were saddened to learn of the passing of David J. Volk.
Dave joined the agency on October 19, 2015 as PATH's first Safety Programs Coordinator following his retirement in 2013 as Fire Director and Chief of Department at the Perth Amboy Fire Department, where he was a career service firefighter for 26 years, and served an additional 7 years in the volunteer ranks.
Dave most recently served as the Manager of PATH's System Safety and Environmental Management Division, overseeing the development and execution of programs across the full spectrum of safety areas, including employee and customer safety, fire protection, emergency management, training, environmental programs, sustainability, and hazardous materials management.
During the last two years, Dave was integral in the implementation of COVID-19 safeguards system wide, ensuring that PATH could effectively protect its employees and customers while also addressing a wide variety of other issues.
Throughout his entire career, Dave fought fires in both the literal and figurative sense, always committed to the well-being of others. Beyond his steadfast role on the front-lines, he dedicated his time to teaching the next generation of firefighters, serving as a staff instructor at Monmouth County Fire Academy for more than 25 years.
Dave will be deeply missed by his friends and colleagues in PATH and across the agency. He is survived by his wife Susan Volk and daughters Brittany and Courtney.
Friends and colleagues will be received this coming Monday, March 14, from 4 to 8 p.m. at Flynn and Son Funeral Home, located at 23 Ford Avenue in Fords, NJ 08863.
Dave will be honored with a full firefighter's funeral service. A memorial service will be held on Tuesday, March 15, starting at 10:15 a.m., at the Flynn and Son Funeral Home in Fords. This will be followed by a church service at 11 a.m. at Grace Lutheran Church, located at 600 New Brunswick Avenue, Perth Amboy, NJ 08861. The graveside service will follow at 12:30 p.m. at St. Gertrude Cemetery, located at 53 Inman Avenue, Colonia, NJ 07067.
Our thoughts and deepest sympathies are with Dave's family, friends, and colleagues during this most difficult time. Grief counseling and other support services are available for all staff by calling the Employee Assistance Program at 800-833-8707.
Rick Cotton
Executive Director/President, PATH Corporation