December 8, 2022
---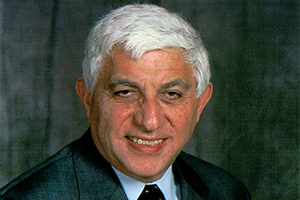 Herbert Ouida, 80, passed away peacefully on December 8, 2022, surrounded by his loving family. The cause of death was a subdural hematoma as a result of having been struck by a car on October 14.
Herb was born in Brooklyn, NY, on December 19, 1941 to Soad (Kassir) and Hashem Ouida, who had emigrated from Lebanon. He was one of nine siblings and lost his father at the age of 13. Carmen and Lillian, two NYC evangelical missionaries took him under their wings. They arranged for him to attend summer camp, which was a transformative experience, and impressed upon him the importance of education. Against all odds, Herb put himself through Brooklyn College and St. John's Law School. He became the anchor of his family and remained that until his passing.
Herb met Andrea Di Prima when he was 17 and she was 14. He courted her by riding his bicycle down Ocean Parkway from Borough Park to Marine Park. When Andrea returned from Harpur College their relationship blossomed and they were married on April 3, 1966. They resided in Manhattan for several years and moved to River Edge in 1970. They welcomed their daughter Amy Ruth in 1971, their son Jordan Daniel in 1972, and their son Todd Joseph in 1976. Herb was the original hands-on, diaper-changing dad! He became active in the town and was most dedicated to his memberships on the River Edge and River Dell school boards. For many years, Herb was recognized throughout River Edge by his full head of white hair or the Michigan hat he wore on cold, early-morning walks. Herb and his family joined Central Unitarian Church, Paramus, in 1976.
Through the years, Herb served in many capacities, from Sunday School teacher to Endowment Trust Fund trustee to president of the congregation's Board of Trustees. Herb's sudden passing has devastated a community that truly loved him. He is being described as: thoughtful and kind; a friend and role model; a sensitive, good and loving man; a source of joy and enthusiasm; an inspiring human being; someone we looked up to; a gift to know.
Family was paramount to Herb, but he also had an illustrious career. He began his legal career at the Port Authority of New York and New Jersey and remained there for many years. At the request of then-mayor Ed Koch, the Port Authority gave Herb a leave of absence in 1979 and 1980 to serve as first deputy commissioner and general counsel to the New York City Taxi and Limousine Commission. In 1982, the Port Authority Trading Company, XPORT, was established under Herb's leadership, offering small- and medium-sized businesses in New York and New Jersey comprehensive export development. In 1990, XPORT received the Innovations in American Government Award from the John F. Kennedy School of Government at Harvard University. As director of XPORT, Herb was invited to the White House Rose Garden to accept the award. In 1995, Herb retired from the Port Authority and became the Executive Vice President of the World Trade Centers Association.
Herb traveled around the world with the WTCA until the terrorist attack on the World Trace Center in 2001. Herb's office was on the 77th floor of WTC1 and he was able to escape. Herb's son Todd worked for Cantor Fitzgerald on the 105th floor and perished. In order to create a meaningful legacy for Todd and meet evil with good, Herb and his family established the Todd Ouida Children's Foundation. Because Todd suffered from panic attacks as a pre-adolescent, the foundation focuses on mental health initiatives for children and adolescents. The foundation has just reached the milestone of $2,000,000 in grants distributions. An annual lecture and research grant has been endowed at Todd's alma mater, the University of Michigan. An annual conference is held at Montclair State University under the auspices of its Center for Autism and Early Childhood Mental Health. Many local organizations are supported as well: West Bergen Mental Healthcare, Children's Aid and Family Services, CarePlus Healthy Families, and many more. Through the work of the foundation, Herb has served on the advisory board of the U-M Depression Center and on the board of trustees at Youth Consultation Services. He also served for a number of years on the Bergen County Human Services Advisory Council.
Herb is survived by his wife Andrea, his children Amy and Alex Morik and Jordan and Heather Ouida, and his five precious grandchildren: Ashley Jordan, Andrew Todd and Aidan Todd Morik; Christopher Todd and Nicholas Raymond Ouida. The grandchildren always came first and because Herb had a special way with them he was known as the baby hog and the baby whisperer. Herb is predeceased by his son Todd, whom he had been waiting to see again for 21 years. Herb is also survived by his siblings Fatima Mirrow, James Ouida, Elenore Reynolds and Lorraine (Debbie) Silver. He is predeceased by his parents and his siblings Evelyn Tari, Edward Ouida, Marilyn Foley (his twin), and Lila Hecht.
Throughout his life, Herb helped family members and friends navigate through hard times. His optimism was a gift to us all, and he made us laugh! A celebration of Herb's life will be held on Friday, January 6 at 4:00 PM at Central Unitarian Church, Paramus. Herb was passionate about the work of the Todd Ouida Children's Foundation, thus, in lieu of flowers, we would deeply appreciate memorial donations to the foundation through mybuddytodd.org.
Posted online on December 12, 2022
Published in Record and Herald News
Service Information
CELEBRATION OF LIFE
Central Unitarian Church, Paramus
January 06, 2023 at 4:00 PM