July 9, 1925 - April 4, 2022
---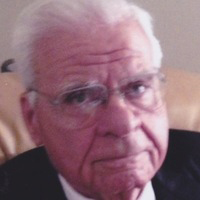 James Louis Giorgi of the Bronx, NY, a loving husband, father, grandfather, and great-grandfather, passed away peacefully at home on Monday, April 4, 2022 at 96 years of age.
James was born in New York City on July 9, 1925 to Agostino Giorgi and Theresa DiMarsico. On February 9, 1952, he was joined in matrimony with Lucia Frances DeGregorio, a marriage that endured for 68 years until her passing, raising four children: James, who predeceased him, Diane, Michael, and Andrea.
He was raised in East Harlem and much of his young life was shaped at the Union Settlement, where he participated in their many enrichment programs, the highlight being their summer camp program, both as a camper and later on as a camp counselor
James served in the United States Navy during World War II, achieving the rank of Aviation Ordnance Man, Second Class. He went on to a successful 37-year career at the Port Authority of New York and New Jersey, starting as a police officer and rising to the rank of Lieutenant. Upon receiving his Masters Degree in Public Administration from Baruch College in New York City, he transitioned to management in the Tunnels and Bridges Department. He worked at a number of facilities, ultimately becoming the Assistant Manager at the George Washington Bridge.
He spent a rich and fulfilling retirement enjoying travelling, gardening, writing tales of his life experiences, and spending time with his family. He took an interest in current events and was an avid history buff.
A devoted father to his children Diane Giorgi, MD, Michael Giorgi, MS Ed, and Andrea Giorgi Bocker, PE, and her husband AnthonyBocker, MChE and the late James Giorgi and his surviving spouse, Sveta Rozhkova. A loving grandfather of Rosalyn Bocker Parks, PhD and her husband Ronald Parks, PA-C, Emily Bocker and her husband Thomas Pollio, Luciana Giorgi, MHA and her partner, Taylor Bowne, Camille Bocker, NP and her partner Derek Guynn, RN as well as the lights of his life, his great-granddaughters Georgiana and Theodora Parks.
Dear brother of Jean Papale and brother-in-law of the late Frank Papale, brother of the late August Giorgi and brother-in-law of his late wife Jean, brother-in-law of the late Joseph DeGregorio and his surviving wife, Marie. Devoted uncle to his nieces and nephews.
Funeral Liturgy from St. Joseph's R.C. Church in Lodi on Saturday, April 9th at 10 AM. Entombment following at Madonna Mausoleum, Fort Lee. Visitation Saturday from 8:30-9:30 AM at Costa Memorial Home Boulevard and Central Ave. Hasbrouck Heights.
In lieu of flowers, memorial contributions to:
Union Settlement
Attn: Development
237 East 104th Street
New York, NY 10029
If you prefer, you can contribute at the Union Settlement website: unionsettlement.org