February 2, 2022
---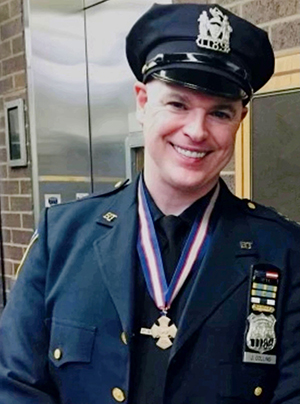 With great regret and sadness, I must inform of the passing of Detective John (Jack) Collins (Shield #126). Detective Collins passed away earlier today at his residence.
Detective Collins was a graduate of the 100st PAPD Academy class and during his 21-year career, he served with exceptional pride and distinction in all of his assignments.
For his heroic efforts on 12/11/17, while collectively responding to the suicide bomber attack at the PABT, he was awarded the PAPD's highest honor, the Medal of Honor. Detective Collins was instrumental in all aspects of criminal investigations along with training recruit classes on various investigative techniques.
Funeral arrangements are pending, and another message will be forthcoming.
Waked:
Sunday, February 6, 2022
2:00pm - 5:00pm & 7:00pm - 10:00pm
Gleason Funeral Home
36-46 Bell Blvd.
Bayside, NY 11361
718-428-2210
Funeral Mass:
Monday, February 7, 2022
10:00am
Sacared Heart Roman Catholic Church
215-35 38th street
Bayside, NY 11361
718-428-2200