January 18, 1932 - July 2, 2022
---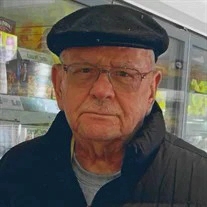 Joseph R. Falkowski, passed away on July 2, 2022 at age 90 at his residence, Arbor Terrace Shrewsbury Assisted living, Tinton Falls, NJ.
Joe was born in Lorain, Ohio. Before moving to Arbor Terrace, he lived in Holiday City, Berkeley Township, NJ. Previous residences were, Manahawkin, NJ, Saddle Brook, NJ, Little Ferry, NJ, Cranford, NJ, Jersey City, NJ and Brooklyn NY.
He was predeceased by his wife of 49 years, Marilyn (Muller) Falkowski, father, Julius Falkowski, mother Josephine (Rogalski) Falkowski, sister, Loretta Falkowski, brother, Steven Falkowski and sister, Helen Hnat. Joe is survived by his sister, Eleanor Welsh, of Cullman, Alabama, his sister-in-law, Theresa Fleming of River Edge, NJ and many nieces, nephews, cousins and friends.
During his long life he enjoyed fishing (surf casting), golf, and swimming. He was a loyal baseball fan (NY Mets) and hockey fan (NJ Devils). Joe made sure he never missed watching a game on TV. He enjoyed listening to big band as well as polka music. Every night at 7:00 PM you knew where to find Joe, glued to his television watching Jeopardy, and he knew most of the answers and blurted them out before the contestants. He was previously a parishioner of St, Maximilian Kolbe RC church, Berkeley township.
He served in the army during the Korean War and was honorably discharged in 1954. Joseph was employed at the Port Authority of NY and NJ as an electrician and retired after 36 years with the title, Electrical Group Foreman, Port Newark, NJ. Joe was a, loving husband, son, brother, favorite uncle, godfather and best friend to many and will be missed more than words can say.
Bongarzone Funeral Home
2400 Shafto Road
Tinton Falls, NJ 07712
(732) 918-6200
Service details to follow.
Details are pending.