September 12, 1930 - August 27, 2022
---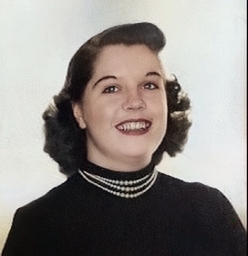 Mary H. "Polly" Donlan, longtime Staten Island resident, passed away at her home in Topeka, Kansas at the age of 91.
Mary was born on September 12, 1930 in Princess Bay to Frank J. and Gerda Roess Peters. Mary grew up surrounded by a large, loving family and even though times were tough during the Great Depression her childhood was a happy one. Mary graduated Port Richmond High School in 1947. She met her future husband, Peter J. Donlan, on the Staten Island ferry while on her way to work at Prentiss Hall publishing. Mary and Peter were married March 22, 1950. Mary raised three children and was very involved in their lives.
She was an accomplished seamstress and an avid reader. Mary went to work at The Port Authority of N.Y. and N.J. in 1967 and retired as the Assistant Administrator to the Newark Airport manager in 1993. After her retirement Mary moved to Emporia, KS. to be closer to her daughter and grandchildren. She volunteered at a local school and was a member of the Emporia AARP. Mary cheered her grandkids on at their sports events and was a NY Yankee fan, Brett Gardner and Aaron Judge being her favorites. She also was a big fan of Shaquille O'Neal and had his picture above her computer desk.
Mary was predeceased by her son, Michael Scott Donlan. Her parents, siblings Frances Baker, Gretchen Werner, Janet Richards, David Peters and Robert Peters. She was also predeceased by her ex-husband and friend, Peter J. Donlan, her nephew Christopher Richards, son-in-law Jesse R. Howard, great-granddaughter Adriana Howard, and her much beloved cockatiel, Chiquita Bonita. Mary is survived by her daughter Susan Howard of Topeka, KS. and her son Gerald Donlan and wife Susan of Rockaway, N..J. She is also survived by her grandchildren Jennifer Walsh, Jeri Toepfer, Jesse M. Howard, Noel Donlan and Molly Donlan. She is also survived by six great-grandchildren and numerous nieces and nephews, whom she adored.
As per Mary's wishes cremation has taken place with no services. Mary will be laid to rest with her son Michael in St. Peters Cemetery, Staten Island at a later date. Memorial donation may be made in Mary's name to your local library.
Published by Staten Island Advance from Aug. 27 to Aug. 29, 2022