December 3, 1951 - November 29, 2022
---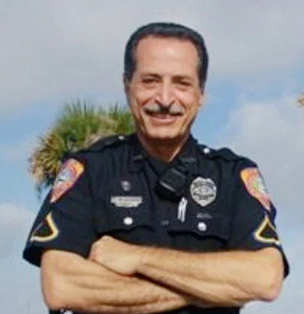 Matthew T. Besheer (Matt) passed away at his home in North Port Florida on Tuesday, November 29th. Born September 3rd, 1951 in Brooklyn, NY, Matt grew up loving to cook Lebanese food with his mother and to help his father at work. He took his NY heart and the things his parents taught him all over the world: traveling, generously hosting others, and diligently working.
Matt's biggest pride and passion in his life was his work in Law Enforcement, serving for 37 years with the Port Authority and the FBI/Joint Terrorism Task Force. Matt served as an officer and detective before traveling the world to apprehend the 1993 World Trade Center Bombers and derail the 1995 Bojinka Plot. All of these efforts were ultimately rewarded with the Attorney General's Award in 1997, the highest honor bestowed from then Attorney General Janet Reno.
After retiring in 2000, Matt returned to New York to work at Ground Zero after September 11th, a day that came to define who he was and how he lived. His work, prediction of events, and profound sadness in losing 37 friends that day are profiled in the History Channel's Road to 9/11 and by ABC. His work was also featured in the book The Hunt for KSM.
After a full career of hard and good work, Matt relocated to Florida with the intention to retire, but he simply could not—it's just not his nature. He joined the Punta Gorda Police Department where he served from 2007-2012. Here, he continued his work of protecting others while making new friends in his colleagues and dogs of Punta Gorda, always having treats in his patrol car.
When Matt finally did slow down, he turned his attention to his furry companions. Keiko and Tessa helped Matt transition from the excitement of protecting the lives of others to savoring the enjoyment of his own. He tended his Airedales with the same diligence that he did his work, but always with a dollop of whipped cream. Matt's love of Airedales led him to take on the role of Treasurer of the Airedale Terrier Club. He was often heard saying, "There's a reason "God" is "Dog" backwards."
Matt always loved US history and had a particular affinity for the study of World War II. He was knowledgeable in nearly every facet of plane crafts and heroism in this time in history. This passion led to his involvement with the D-Day Memorial and inspired him to help his communities celebrate D-Day and the anniversary of Pearl Harbor each year.
Matt also, of course, recognized the role of September 11th in US history. It was a daily goal of his to ensure that the lessons learned and the heroes lost, were never forgotten. He was involved in many organizations dedicated to remembering those lost and supporting their families. He also gave much of his free time to speaking at local and national events and universities on the subject.
This love of history also inspired Matt as a person. Matt loved a good hero. He himself was a hero to so many through his work and his care for animals. What made him especially fun to be around was that he did it all with a laugh in his back pocket. If you saw his lip twitch and a twinkle in his eye, odds are he was about to make a (potentially inappropriate) joke.
Matt is survived by his two dogs Keiko and Tessa, his loving companion Dale Ritchie, daughters Regina Boudwin and Kathryn Jensen and their families, and several family members, especially cousins whom he cherished.
He is preceded in death by his parents, Peter and Anna Besheer, granddaughter Ella Grace, and many dear friends and family.
As Matt often said, "No one gets out of this alive so there's no reason to be sad." As such, there will be a Celebration of Life honoring him on December 7th in North Port from 3pm to 6pm for more information or to RSVP please contact honoringmattbesheer@gmail.com and December 16th in Central New Jersey.
In lieu of flowers the family asks that you please consider making a donation in Matthew's honor to either the National D-Day Foundation or Tunnel to Towers Foundation.
Farley Funeral Homes & Crematory
---
He earned the highest honor bestowed by the former Attorney General Janet Reno for exceptional service after helping capture the terrorists who bombed the World Trade Center.
Years later, Matthew Besheer returned to ground zero after the Twin Towers in New York were destroyed.
Long after Besheer retired as a Port Authority of New York and New Jersey detective, he clearly remembered the horrors of the terrorist attacks of Sept. 11, 2001.
He moved to Punta Gorda in 2000 and was invited as a guest speaker during many 9/11 ceremonies and other engagements.
Besheer, 71, spent 37 years in law enforcement at the state, local and federal levels, including as a Punta Gorda Police Officer for five years. He died this week.
Besheer lived in North Port with his Airedale terriers.
Besheer's ex-wife Barbara Besheer, of Punta Gorda, said she has nothing but kind words about him.
"When we were dating, he planned to propose to me at the top of the World Trade Center," Barbara Besheer said. "It was an ugly day outside. I told him we could just stay home. I wrecked his Plan A proposal. So a little bit later he returned from the local fish store. I hear him screaming to come up on the roof that something was wrong. I get up there and he had lobster for me and a ring.
"He said, 'It's not the top of the World Trade Center, but it's you who I want to spend my life with, will you marry me," she said. "It was my birthday. We were married for 20 years. He was indeed a romantic."
Barbara said Besheer was great at everything he touched even if he just learned. She taught him to play tennis and he beat her at it the first time he played. He was good at skiing and "loved" to cook. She said he was a great father to his two adult daughters, Regina Boudwin and Kathryn Jensen, who still keep in touch with her. He also loved his four grandchildren, she said.
The couple was together in their Punta Gorda Isles home on Sept. 11, 2001. Barbara remembers telling Besheer a plane hit the Twin Tower. He told her small planes hit the tower and it was probably nothing.
She said he needed to come watch the news with her. Minutes later, the second jetliner hit the tower. Besheer watched as the substation of The New York New Jersey Port Authority in the lower level of Tower One was crushed by the rest of the building. He cried. Then their phones started ringing.
"The FBI and Port Authority called," she said. "We threw some clothing in our vehicle and drove to New York. We were stopped once by a state trooper. When he saw Matthew's FBI jacket, the trooper said, 'Godspeed' and we drove straight through. Matthew was at ground zero for three weeks. He was in Staten Island where they were examining for victims, personal effects, and evidence related to the attack."
After the couple returned to Florida, Besheer wanted to go back to work at the Port Authority. Barbara believes Besheer was disappointed because he wanted to help track down those who attacked America on Sept. 11. Instead he got a job with the Punta Gorda Police Department.
After he retired from there, he worked at Home Depot and later sold waterfront and golf course real estate for more than seven years.
Besheer was the guest speaker at Patriots Park-Venetia Bay in Venice in 2019. He said the Sept. 11 attacks took the lives of 37 of his comrades. He pledged to never forget them at memorial services each year.
"I never miss a year; my duty in life is to keep their memories alive. They're not just numbers; they're people," he told Harbor Style Magazine, adding after seeing the plane hit the building, his "stomach sank" and his body was trembling.
Besheer added he predicted in 1995 that another attack on the World Trade Center was coming. It was because after the Feb. 26, 1993 parking garage bombing in World Trade Center 1, Besheer was one of the investigators who was later assigned to the FBI-NYPD Terrorist Task Force to find those responsible.
Ramzi Ahmed Yousef, was apprehended in Pakistan and flown to Stewart Air Force Base in Orange County, New York. He was flown to Manhattan where he would stand trial in the killing of six people and injuring more than 1,000 in the bombing. Besheer was on the helicopter with Yousef, who was blindfolded, and other law enforcement. Yousef was shown the World Trade Center was still standing and all lit up.
Besheer recalled Yousef's response: "Next time we'll have more money and will bring them down."
After Sept. 11, Besheer said fires burned for 99 days at 1,600 degrees and made the steel so hot in places that their boots melted. He said there were 19 bodies not found because they were likely incinerated. He attended 19 funerals of 37 colleagues killed on Sept. 11.
Besheer learned that Khalid Sheikh Mohammed was the uncle of Ramzi Yousef. Mohammed was the mastermind in the plot to hijack airplanes and fly them into buildings. He met with Osama bin Laden to plan the Sept. 11 attacks.
Besheer's detective work was showcased on the History Channel's "Road to 9/11" and "Nightline." In the documentary, Besheer said returning to the place where he watched the Twin Towers built in the 1970s would be painful after watching them come down. However, he did go back. He saw the names of his co-workers on the 9/11 memorial and said it's important to keep their memories alive, and he did.
Barbara said Besheer was also a huge history buff who loved old airplanes, especially those from World War II.
"After we retired, we realized neither of us could sit at home all day," she said. "He worked for Home Depot in the electrical department. For a guy that didn't know that much about electricity, he was so good at his job."
He never stopped working or being available to assist, she said.
"He was very handy around the house. After Hurricane Charley, he painted the outside of four of our neighbor's houses and several others in the neighborhood. After we split, he kept helping people in neighborhoods where he lived. People who knew him didn't have a bad thing to say about him. I don't and I'm an ex-wife."
Published by Legacy on Dec. 2, 2022