March 22,1945 ~ February 25, 2022
---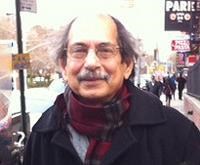 Ramkishin Kanu Samat, known to his friends and colleagues affectionately as Sam, survived the Partition of India and grew up in a sixth floor apartment in Bombay's Breach Candy, a stone's throw from the Arabian Sea.
Sam moved to New York City in 1966 to study industrial engineering at Rutgers (MS 1968) and also received a Masters degree in Philosophy from the New School in 1981. He worked as an engineer in Operations Standards at the NY Port Authority for over a decade with a small crew of beloved friends, and later devoted his life to various nonprofits helping children, people with disabilities, refugees, and others in need, often laboring tirelessly for their causes. Sam was a devout Hindu while also fancying himself a Buddhist; he loved to travel (most recently visiting Tokyo and Shinto shrines in the Japanese countryside), meditate, write poetry, and was a true cinephile (always favoring French New Wave) as well as an avid art collector.
Sam cherished a strong cup of chai, listening to old albums - jazz, folk, you name it - all while discussing politics and world history. Sam is remembered and loved deeply by many here and abroad, and is survived by two daughters and his wife, Anna Samat of Haddon Heights, New Jersey. They lived together there for more than four decades in an old Victorian house with a sun carved above the door, and every evening at dusk he enjoyed a long, familiar walk east down Station Avenue under the towering trees.
the trees are speaking to the wind tonight...the wind carries stardust across the universe so that it can speak to us...we are made of this stardust – little nano particles of some far and distant star traveling close to the speed of light and invading our bodies with their memories...
words like fireflies sparkle in the night then disappear into the darkness...R.K. Samat
Published by New York Times from Mar. 16 to Mar. 17, 2022