November 27, 2022
---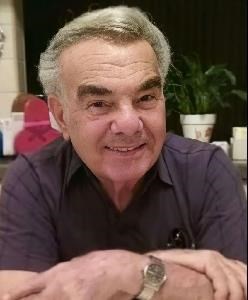 Robert Cotugno - passed away at home on the 27th day of November 2022 in the company of his family.
Robert was born in Brooklyn, New York, in 1936 and was the 6th of 7 children. He had 3 sisters and 3 brothers and grew up in the projects of Redhook, Brooklyn. Shortly after meeting at a roller rink, he married his beloved wife, Carmela in September 1956. In January of 1957 he was drafted into the Army and was stationed in West Germany. Carmela traveled to be with him and they lived in Heilbronn, Germany for 6 months. After his Army tour they returned to Brooklyn before moving to Staten Island, New York in 1964, where they lived for 39 years. Robert worked for the Port Authority of New York and New Jersey for 39 years, where he worked his way from a Construction Inspector to Assistant Resident Engineer. He worked on many projects at the Port, including: the Lincoln and Holland Tunnels, Goethals Bridge and Outerbridge Crossing, Newark Airport, the Path train station in Hoboken, the Port Authority Bus Terminal and the original World Trade Center complex.
While in Staten Island, Robert was an active parishioner at Holy Child Church. In 2003 he retired, and they moved to Indio, CA. After moving to Indio, they soon became members at Sacred Heart Church and joined the Dolly Sinatra Lodge / Sons of Italy Club in Palm Springs. Through these they made many new friends. Robert is proceeded by Carmela, his loving wife of 61 years in 2018, and is survived by his four sons, their spouses, 5 granddaughters and his many nieces and nephews around the country.
Funeral service will be held at Forest Lawn in Cathedral City on Friday, December 2nd from 9am to 3pm with prayer service in the chapel from 3pm 4pm. Robert will be buried at Riverside National Memorial Cemetery. Donations in his memorial to the Disabled American Veterans, in lieu of flowers, would be appreciated. Forest Lawn - Cathedral City - Cathedral City,CA (3389)
Published by Staten Island Advance from Dec. 1 to Dec. 2, 2022