January 1, 2022
---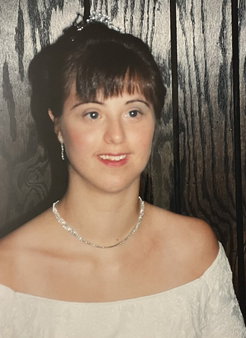 Teresamarie Aprile, age 46, passed away peacefully on Saturday January 1, 2022 at Pathfinder Village in Edmeston, NY. Teresa was born on September 7, 1975 in Montvale, NJ, and is the special angel to parents, Gennaro and Theresa (née Mintrone) Aprile.
Teresamarie grew up in Montvale NJ where she graduated from Emerson NJ Special Need Program and the Bergen Tech Special Education Program. Teresa was a member of the NJ Special Olympics and received Gold Medals in Basketball, Gymnastics, Ice Skating and Track and Field events.
She loved to dance, listen to music, watch wrestling and enjoyed the sunshine of Jupiter Florida, where she spent many winter months with her family.
Teresa was a special angel and brought much love and joy to many lives, her smile will be greatly missed. Teresamarie is survived by her loving parents, Gennaro and Theresa Aprile; brothers Dominick and Robert Aprile; sister in laws, Loretta Spangler Aprile and Shannan Scott Aprile; loving aunt of Jonathan, Vincent, Allison, Hudson and Maddox.
A Mass of Christian Burial will be offered on Thursday, January 6th at 10:00 am at The Church of Saint Ann, 6 Church Street, Hampton, NJ 08827. Entombment will follow at Immaculate Conception Mausoleum, 316 Old Allerton Road, Annandale, NJ 08801. Arrangements are under the care of Martin Funeral Home, Clinton, NJ. To share memories with the family please visit www.martinfh.com
In lieu of flowers, donations in Teresa's name may be made to the Pathfinder Village Foundation, 3 Chenango Road, Edmeston, NY 13335-2314.