July 8, 2022
---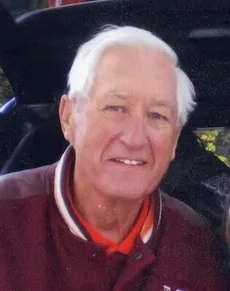 Vernon C. Berndt, 85, of Mount Joy, PA, formally of Mahwah, NJ, died Friday, July 8, 2022 at Lancaster General Hospital, after a brief illness.
Born in St. Joseph, MI, he was the son of the late Franklin and Frances (Nimitz) Berndt. He was the loving husband of Judith A. Logan, and the late Mildred Berndt (2000).
Vernon was a civil engineer who retired as the manager of the materials division after 30 years with the Port Authority of New York & New Jersey (1967-1997). He was a member, and choir member of St. Peter's Evangelical Lutheran Church, Lancaster PA. Vernon spent over 30 years in Mahwah, NJ, where he raised his children with his wife Millie and where he was a proud member of the Holy Cross Lutheran Church. He enjoyed landscaping and gardening, and volunteered his expertise to family, neighbors and church. In earlier years on a typical Saturday, he and his son Jon could be found caring for the church grounds in addition to his own. He was an avid golfer, who recorded 2 "holes in one".
He loved spending time with friends and family, but his greatest pleasure was the time with his grandchildren. Surviving in addition to his wife Judy is his daughter Diane Livingston and four grandchildren, Brittany, Ashley, Kyle, and Natalie; and his daughter in-law, Cyndi Berndt. In addition to his parents and first wife, he was preceded in death by his son Jonathan (2021). Relatives and friends are respectfully invited to attend Vernon's funeral service at St. Peter's Evangelical Lutheran Church, 10 Delp Road, Lancaster, PA on Friday July 15, 2022 at 11:00 AM. There will be a time of viewing and visitation on Friday at the church from 10:00 AM until the time of the service. Interment will be in the Lutheran Church of the Redeemer Cemetery, 90 Chapel Road, Mahwah, NJ on Saturday at 11:00 AM. In lieu of flowers, contributions in Vernon's memory may be sent to the American Cancer Society. To send the family on-line condolences, please visit: www.BuchFuneral.com Arrangements by Buch Funeral Home Mount Joy, PA.
Posted online on July 11, 2022
Visitation:
St. Peter's Evangelical Lutheran Church
10 Delp Road Lancaster, PA
July 15, 2022 at 10:00 AM - 11:00 AM
Funeral Service:
St. Peter's Evangelical Lutheran Church
10 Delp Road Lancaster, PA
July 15, 2022 at 11:00 AM
Interment:
Lutheran Church of the Redeemer Cemetery
90 Chapel Road Mahwah, NJ
July 16, 2022 at 11:00 AM
Published in Record and Herald News