May 12, 1942 - February 8, 2022
---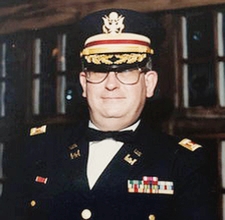 Obituary of William T. Brennan
East Greenbush, NY—William T. Brennan PE, 79, a Lt. Col. in the U.S. Army Corps of Engineers and a veteran of Operation Desert Storm, peacefully entered life eternal on February 8, 2022. He was born on May 12, 1942 in Rockville Centre to Joseph and Eleanor (Corrigan) Brennan and was a lifelong resident of Long Island before retiring and moving to East Greenbush in 2019. As a young man, he joined the 411th Engineer Brigade, a major combat engineer command of the United States Army Reserve, rising to the rank of Lt. Col. and earning two Silver Star medals for gallantry in action and a Bronze Star in recognition of heroic service and meritorious achievement. During Operation Desert Storm, Bill served with an advance team instrumental in building a fuel pipeline infrastructure in Saudi Arabia to support ground and air combat efforts. He also served on a joint task force deployed to Panama, Central America, where he led humanitarian projects, including construction of a school and a water treatment facility.
Bill was a 1977 graduate of The City College of New York with a B.S. in Engineering and was a fellow of the American Society of Civil Engineers (ASCE). He was a professional engineer for the Port Authority of New York and New Jersey for nearly 30 years, working in the port, rail and aviation departments. After he retired, Bill was a project manager for several large engineering firms in New York City, working on the state-of-the-art Newtown Creek Wastewater Treatment Plant in Brooklyn. Bill was a member of the Peter Andrews Castleton Memorial VFW Post 7337 and a parishioner of Historic St. Mary's Church in Albany.
He is survived by his loving wife, Debra, and their three children: William T. (Tyne) Brennan II, Grace Anne Brennan, and Rose Elizabeth Brennan; his sister, Regina Brennen; his children from his first marriage, Colleen Brennan, Joseph Brennan, Maureen (Amato) Delligatti, and Christine (Terence) Fitzgerald; and seven grandchildren, Killian, Matthew, Daniel, Hannah, Mychal, Thomas and John.
Funeral mass will be offered Saturday, February 12, 2022 at Historic St. Mary's Church, Lodge Street Albany at 10:00AM. All are welcome to attend. Interment will be in New Sacred Heart Cemetery, S. Old Post Road, Castleton immediately following the mass.
In lieu of flowers, kindly send donations to the Eternal Word Television Network (EWTN), 5817 Old Leeds Rd., Irondale, AL 35210.
To plant a tree in memory of William Brennan, please visit Tribute Store
Castleton Funeral Home, LLC
59 Seaman Avenue
Castleton-on-Hudson, NY 12033 ‎
(518) 732-7663
Funeral Mass:
Saturday, February 12, 2022
10:00 am - 10:45 am
Historic St. Mary's Church
10 Lodge Street
Albany, New York
Interment:
Saturday, February 12, 2022
11:15 am
New Sacred Heart Cemetery
S. Old Post Rd.
Castleton-on-Hudson, New York
518-732-2155