August 24, 2023
---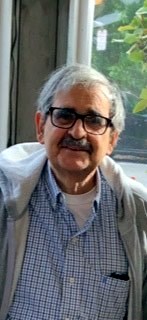 Charles Fausti of Eastchester, New York passed away peacefully at home on August 24, 2023 with family by his side.
Charlie grew up in the Bronx where he graduated from Mount Saint Michael Academy and was an active parishioner at St. Lucy's Church. He went on to receive his Bachelor's degree in Civil Engineering from Manhattan College and his graduate degree from SUNY Polytechnic Institute. A New Yorker at heart, he was a true Yankees fan and could often be seen donning a cap of his favorite team.
Following graduation, Charlie went to work for the Port Authority of New York and New Jersey. His distinguished career at the Authority spanned an impressive 47 years and his strong commitment to his profession and his colleagues was a guiding force in his life.
Charlie was a strategic thinker, a thoughtful mentor, a true team player and a creative problem solver. He played a key role in the development, implementation and operations of the state's E-ZPass electronic toll collection system, so much so that he earned the nickname "Father of E-ZPass." A survivor of the first World Trade Center bombing in 1993, Charlie was trained as a fire marshal and on September 11, expediently and successfully led the members of his team to safety.
Charlie was a dedicated son, caring for both of his parents as they aged. He was also a devoted big brother, a loving cousin, a faithful friend and a steadfast colleague. His strong faith was the bedrock of his compassionate, kind and generous spirit. To know Charlie was to experience his warm and welcoming smile, his quiet patience, his quick wit and his unique ability to make everyone feel valued and appreciated.
Charlie was pre-deceased by his parents Joseph and Louise Fausti and his beloved brother John Fausti.
Donations in Charlie's memory may be made to the Stephen Siller Tunnel to Towers Foundation or the International Myeloma Foundation.
Show your support
Send Flowers
Comfort the family with flowers or a sympathy gift.
Add a Memory
Send a note, share a story or upload a photo.
Share Obituary
Let others know about your loved one's death.
Get Updates
Sign up for service and obituary updates.
Donations
International Myeloma Foundation
Tunnel to Towers Foundation
Services
WEDNESDAY, AUGUST 30, 2023
Memorial Visitation
4:00 pm - 8:00 pm
EDWIN L. BENNETT FUNERAL HOMES
824 Scarsdale Ave
Scarsdale, New York 10583
THURSDAY, AUGUST 31, 2023
Memorial Service
10:30 am - 11:15 am
IMMACULATE CONCEPTION CHURCH
53 Winter Hill Road
Tuckahoe, NY 10707
THURSDAY, AUGUST 31, 2023
Committal Service
11:45 am - 12:00 pm
GATE OF HEAVEN CEMETERY
10 W Stevens Avenue
Hawthorne, NY 10532