July 21, 2023
---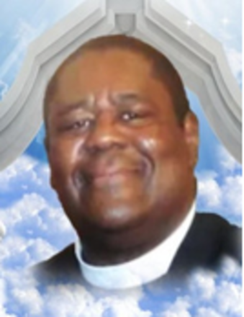 Elder Marc R. Bailey - of Bayonne, New Jersey On July 21, 2023 He entered into the gates with thanksgiving in his heart.
Marc Roderick Bailey entered this world on January 21, 1961 in Jersey City, New Jersey. He was the eldest of two children born to the late James Bailey and Delores Hartzog.
Elder Bailey attended St. Patrick's Elementary School and Marist High School in Jersey City, New Jersey. After graduating high school, Elder Bailey attended Morgan State University on a football scholarship where he pursued a Bachelor of Arts degree in Public Policy.
Elder Bailey was such a committed individual that he was only employed at two jobs in his lifetime. He worked as a Supervisor at Ames Shipping Company in Bayonne, New Jersey for many years until he found the job he loved at Port Authority Trans-Hudson (PATH) where he worked as an Engineer for the past thirty years. He had plans to retire this past March.
Elder Bailey began his Christian walk in 1986 at the International Revival Tabernacle under the leadership of the late Reverend Wayne Sanchez. Elder Bailey was eager to share the Word of God with Pastor Sanchez as they ministered on the streets of downtown Jersey City. He later continued his walk with Christ under the leadership of Superintendent Garrison Hines at Grace Temple Church of God in Christ where He served faithfully in many areas of the ministry during his membership. In 2000, he joined Heavenly Temple Church of God in Christ under the leadership of the Bishop Kevin E. Knight Sr. Elder Bailey was ordained as a Minister in 2005 and Elder in the Church of God in Christ in 2012. He was appointed Assistant Pastor in 2022 by Bishop Kevin E. Knight Sr. Elder Bailey's served tirelessly until his demise in the following areas:
Assistant Pastor
Sunday School Teacher
Church Treasurer
Ministerial Staff Coordinator
Trustee Board Member
President of the Department of Evangelism, in the Hudson North-East District NJ
New Jersey Third Jurisdiction Finance Department
NJ Third Pastors' and Elders' Council
Elder Bailey believed in studying the Word of God and furthered his education by attending The Manhattan Bible Institute for several years earning a Degree in Evangelism, and a Certification in Old /New Testament Survey. Elder Bailey continued his pursuit of being a scholar of the Word by earning a Bachelor of Arts Degree in Christian Ministry at Grace Hill Bible Institute. However, his hunger for Christ did not stop there. During the years of 2019-2021, Elder Bailey embarked on a two-year journey with Redeemer City to City Organization. This journey was unique to other Christian educational endeavors as the foundation of this Redeemer City to City Organization provided proven strategies used in the community to win souls into the Kingdom.
Elder Bailey was an avid reader of all genres of literature especially those pertaining to the Kingdom of God. He loved bowling, sports (Go Steelers), playing with his little dog (the late Frosty Bailey), taking flying lessons, swimming, and traveling with his wife and other couples whenever he could get away from his job and church responsibilities. He was a people person who loved to talk and converse with anyone who would listen. He had a generous spirit and did not mind lending a hand, giving his time or his money if he saw a need.
Elder Bailey was married to his wife Paulette Bailey for thirty years. He is the father of two children and grandfather of one.
Elder Bailey took his flight from Earth to Glory on Friday, July 21, 2023, at Bayonne Hospital surrounded by his wife, family and friends that loved him. Elder Bailey was preceded in death by his parents, James and Delores Bailey.
Elder Bailey leaves to cherish his legacy, a loving wife, Paulette L. Bailey; one son, Saleem Bailey (Anita); one daughter, Naamah Bailey; grandson, Joshua Bailey; brother, Maurice Bailey (Corynne) UK; brothers -in-law, Gary Campbell, NJ: Dwayne Campbell (Claudia), Texas; six nieces; Lezlie Bailey (UK): Sade, Bethany, Victoria, London, and Hannah Campbell (Texas); one nephew, Dwayne Campbell, Jr. (Texas); Aunts: Carol Scott, Jean Hartzog and Marion Fowler; godchildren: Brittney Wheeler (Arzalia, Ivoree, Damonte) and Paulasia Inman; special friends, Jerome Hill, William Hannah, Tyrone Graham and Dan Chmielewski, The Heavenly Temple Church Family along with a host of cousins, relatives, friends and co-workers who will cherish his memory and loving spirit.
A celebration of triumph will commence on Sunday July 30, 2023 at 5:00 PM at Heavenly Temple Church of God in Christ 15 Dr. Martin Luther King, Jr. Drive, Jersey City, New Jersey 07305. Visitation will be from 3:00 PM to 4:00 PM. Remarks and expressions of love will begin at 4:00 PM. final viewing from 4:30PM til time of service. Earthly Encasement will be 10:00 AM on Monday July 31, 2023 at Hollywood Memorial Park Mausoleum, Union, NJ. A ministry of comfort administered by The Family Funeral Home, LLC 445 Monmouth Street, Jersey City, NJ 07302.